Event Media Support is What We Do Best
No matter the size of your event from an intimate fundraiser to a full out concert Behind The Scenes Productions can serve you and your team on numerous levels. From live sound and video production to the printed materials on the tables we can deliver outstanding results and be a valued member of our team.
Our biggest compliment is being asked to serve again at your next event! We have worked hard to develop mutually beneficial relationships with out clients and we look forward to adding your organization to our list.
If you're ready to start a relationship contact Dave at 513-617-0906 or via email Dave Olmstead
Here is a list of a few of our relationships: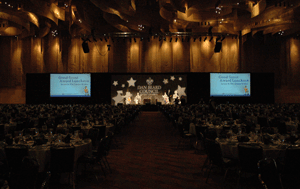 Saint Gertrude Festival- Cincinnati, Ohio
2013-2018 – Sound and Announcing Services
Saint Saviour Festival- Cincinnati, Ohio
2013-2018 – Sound and Announcing Services
Georgetown Scott County Regional Airport
Live Sound Reinforcement 2011, 2015, 2018
Event  Announcer
Event Media Coordination
Lost Nation Airport
Live Sound Reinforcement 2017
Event  Announcer
Event Coordination
Miami Rifle & Pistol Club- 10th Anniversary
Event Planning
Vendor Management
Sponsorship Sales
Parking Coordination
Live Sound
Master of Ceremonies
Dan Beard Council, Boy Scouts of America- Cincinnati, Ohio
Promotional Videos
Event Support Materials
Embroidered Apparel
Laser Cut Leather Patches
Live Event Support
Production of numerous events over multiple years

Council Eagle Court of Honor 2003-2019- event production, video development, Powerpoint and media development, live sound reinforcement, image magnification, interactive media production Chairman's Thank You
Good Scout Award Luncheon 2003-2011, 2017-2019, event production, Powerpoint and media development, site consultant, live sound reinforcement, image magnification
Peterloon 2014 Arena Show-event production, video development, Power Point and media development, live sound reinforcement, image magnification, interactive media production, laser show direction
Peterloon 2012 Program Activities and Arena Show-event production, video development, Power Point and media development, live sound reinforcement, image magnification, interactive media production, laser show direction
Peterloon 2010 Program Activities and Arena Show-event production, video development, Powerpoint and media development, live sound reinforcement, image magnification, interactive media production, laser show direction.
Peterloon 2008 Arena Show-event production, video development, Powerpoint and media development, live sound reinforcement, image magnification, interactive media production, laser show direction. Scout Executive/CEO's Thank You
Festival of Fireworks 2004-2011- soundtrack development, public service announcement production, live sound reinforcement
Annual Banquet 2004-2011- event production, Power Point and media development, site consultant
Camp Promotion Videos 2008-2013- strategy development, location shooting, video production, product duplication management- Multiple Award Winners
Healthy Beginnings- Cincinnati, Ohio
Annual Fundraising Event Support 2007-2019

Event production
Video development
Powerpoint and media development,
Live sound reinforcement
Image magnification
Interactive media production
Stage design
Continental Air Show Productions- Germantown, Wisconsin
Brand Development and business management services
International publication advertisement design, layout, and print management
Business Development
National Sponsorship Development and Relationship Management
Convention Support
Business Operations and Logistics
Numerous Events

Star Spangled 200- Baltimore, Maryland – Audio production, live sound reinforcement
Cleveland National Air Show- Cleveland, Ohio – Audio production, live sound reinforcement
Stuart Air Shows- Stuart Florida- Audio production, live sound reinforcement
Vero Beach Air Show- Vero Beach, Florida – Audio production, live sound reinforcement
Tico Warbird Air Show- Titusville, Florida – Audio production, live sound reinforcement
Barksdale Air Force Base Air Show- Barksdale Air Force Base, Louisiana- Audio production, live sound reinforcement
Dryden Air Show – Dryden Ontario Canada- Audio production, live sound reinforcement
St Cloud Air Show – St Cloud, Minnesota- Audio production, live sound reinforcement
Windsor Air Show – Windsor Ontario Canada- Audio production, live sound reinforcement
Madison Regatta- Audio production, live sound reinforcement
Homestead Air Reserve Base Air Show- Homestead Air Reserve Base, Florida- Audio production, live sound reinforcement
Seymour Johnson Air Force Base Air Show- Seymour Johnson Air Force Base, North Carolina- Audio production, live sound reinforcement
Stuart Sailfish Regatta- Audio production, live sound reinforcement
Youngstown Air Reserve Base Air Show- Youngstown Air Reserve Base, Ohio- Audio production, live sound reinforcement
Naval Air Station Patuxent River Air Show- NAS Patuxent River, Maryland- Audio production, live sound reinforcement
Grand Junction Air Show – Grand Junction, Colorado- Audio production, live sound reinforcement
Eau Claire Air Show – Eau Claire, Wisconsin- Audio production, live sound reinforcement
Fairchild Air Force Base Air Show- Fairchild Air Force Base, Washington- Audio production, live sound reinforcement
Vance Air Force Base Air Show- Vance Air Force Base, Oklahoma- Audio production, live sound reinforcement
Huntsville Air Show – Huntsville, Alabama- Audio production, live sound reinforcement
Pittsburgh Air Force Reserve Base Air Expo – Pittsburgh AFB, Pennsylvania- Audio production, live sound reinforcement
Lancaster Air Expo – Lancaster, South Carolina- Audio production, live sound reinforcement
Charleston Air Force Base Air Show – Charleston AFB, South Carolina- Audio production, live sound reinforcement
Moody Air Fest – Moody AFB, Georgia- Audio production, live sound reinforcement
California International Air Show- Salinas, California- Audio production, live sound reinforcement
"Fargo Airsho"- Fargo, North Dakota- Audio production, live sound reinforcement
Manitowoc Air Show- Manitowoc, Wisconsin- Audio production, live sound reinforcement
McGuire Air Force Base Air Show- McGuire Air Force Base, New Jersey- Audio production, live sound reinforcement
Eglin Air Force Base Air Show- Eglin Air Force Base, Florida- Audio production, live sound reinforcement
Tullahoma Air Show- Tullahoma, Tennessee – Audio production, live sound reinforcement
Air Power Arkansas- Little Rock, Arkansas – Audio production, live sound reinforcement
Cincinnati Children's Hospital- Cincinnati, Ohio
2014 & 2015 United Way Campaign Kick-Off Video
JuneFest at Our Lord Christ The King- Mount Lookout, Ohio
2013-2016 – Sound and Announcing Services
Life Forward- Pregnancy Care of Cincinnati- Cincinnati, Ohio
Annual Fundraising Event Support 2012-2013, 2015

Event production
Video development
Powerpoint and media development,
Live sound reinforcement
Image magnification
Interactive media production
Stage design
Minuteman Council Boy Scouts of America- Boston, Massachusetts
Friends of Scouting Kick-Off- video production
Healthy Advice Networks- Cincinnati, Ohio
Annual Sales and Team Meeting- Audio production, live sound reinforcement
Sales Team Motivational Video- Video production spoofing the order processing system
Annual Health Awards DVD Creation- Production of multiple DVDs for contest entries
Help Build Hope- Milford, Ohio
Single Day Event to build 20 Homes for Katrina Survivors- marketing strategy development, event management, live sound reinforcement, video production
International Council of Air Shows Convention- Las Vegas, Nevada
Convention support- image magnification direction, video support
US Air Force- Offutt Air Force Base, Nebraska
2008-2012, 2014, 2016, 2018 Offutt Air Force Base Air Show- Offutt Air Force Base, Nebraska- Audio production, live sound reinforcement engineering, sound system installation management, air to ground interface